2022 Audi Q7 vs. 2022 BMW X5: Differences, Specs, and More.
2022 Audi Q7 vs. 2022 BMW X5: Differences, Specs, and More.
Posted on January 20, 2022
The two biggest players in the mid-size luxury SUV category are certainly the 2022 Audi Q7 vs. the 2022 BMW X5: learn how they compare so you can make the best decision.
They both share a similar history, with the X5 launching in 2000 and the Q7 in 2005.
BMW West Island, your BMW Canada dealer, is proud to present this Q7 vs. X5 match-up so you can make an informed decision.
2022 Audi Q7 vs. 2022 BMW X5: what do the specs say?
Both of these SUVs are made by renowned German manufacturers, and unsurprisingly, they both offer excellent performance. However, if we look at the their construction and the driving experience they deliver, BMW vehicles have always set themselves apart from the competition year after year, and the 2022 X5 is no exception.
Different Versions Available
Both sides offer the typical line-up of roughly 3 or 4 different versions. The difference is that the Audi model offers 2 engines to choose from for the first two versions, hence the names 45 and 55.
 
Audi Q7
BMW X5
Versions

Komfort 45 or 55

Progressiv 45 or 55

Technik 55

SQ7

xDrive40i

M50i

M Competition
Engines and Power
Both sides offer three high-performance engines, but it is easy to see why BMW enjoys a clear advantage when it comes to engines: the numbers speak for themselves.
Model
Engine
Power
Audi Q7

4l 2.0 liter

3.0 L V6

4.0 L V8

248 horsepower/273 lb-ft

335 horsepower/369 lb-ft

500 horsepower/568 lb-ft

BMW X5

6l 3.0L + mild hybrid

4.4 L V8

335 horsepower/331 lb-ft

523 horsepower/553 lb-ft

617 horsepower/553 lb-ft
Towing and Cargo Capacity
These powerful vehicles aren't afraid to flex their muscles: the 2022 BMW X5 boasts a towing capacity of 7,209 lbs. regardless of the version.
The 2022 Audi Q7's maximum towing capacity is slightly higher at 7,701 pounds, but only the versions powered by the V6 or V8 can do so; the other models can only tow up to 4,409 pounds.
These SUVs have different interior configurations, and therefore their cargo capacities are very different. The Audi is a 3-row vehicle and offers 402 L of cargo space in the trunk, while the BMW offers 960 L. Their cargo capacities are very similar when the seats are folded down.
Vehicle Dimensions
With its three rows of seats, the Q7 is clearly longer than its rival; however, the X5 is wider than the Q7, which means it offers more space and a more comfortable seating for its 5 passengers.
| Audi Q7 | VS | BMW X5 |
| --- | --- | --- |
| 5,062 mm | Length | 4,936 mm |
| 1,971 mm | Width | 2,004 mm |
| 1,740 mm | Height | 1,744 mm |
| 2,995 mm | Wheelbase | 2,975 mm |
Audi and BMW Onboard Technologies
Both vehicles offer similar levels of onboard technologies, although the systems they use are quite different.
Onboard Technologies
The Audi SUV is equipped with a 10.1-inch infotainment system as well as a smaller screen to manage the climate control system. It is also equipped with the following features:
Android Auto
Apple CarPlay
2 USB ports
Audi MMI Navigation
Amazon Alexa
Bluetooth
Wireless charging
The BMW SUV boasts a larger and very user-friendly 12.3-inch touchscreen fitted horizontally on the dashboard. It is also equipped with: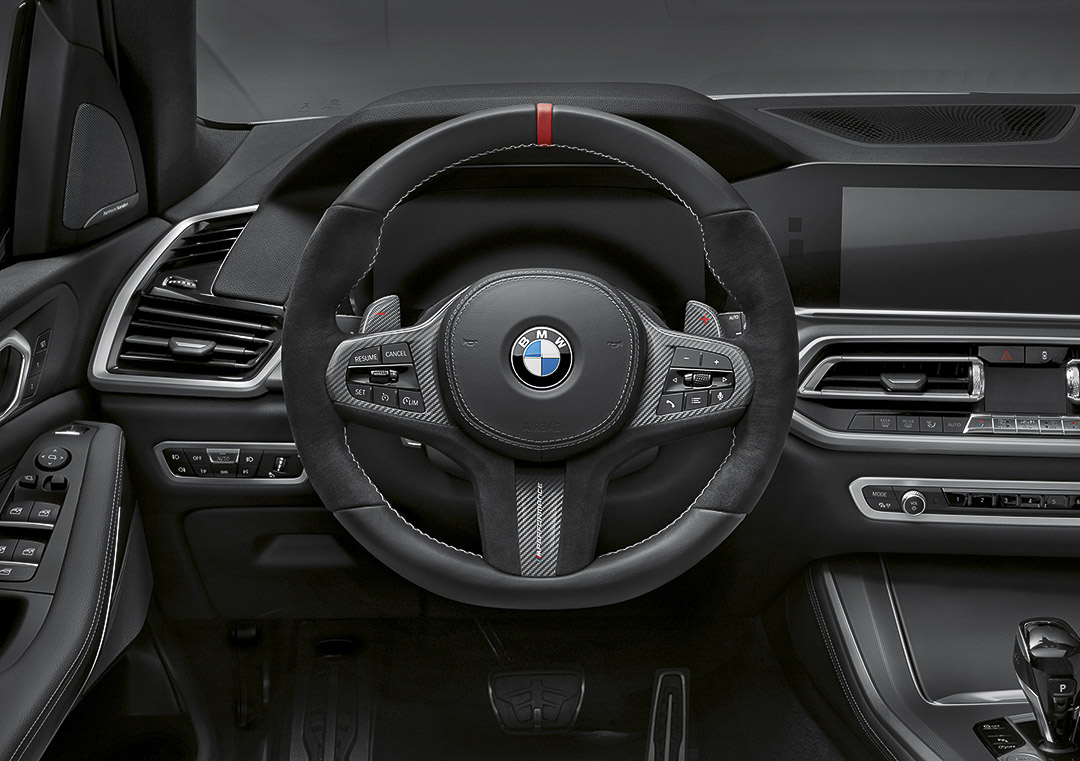 Apple CarPlay
USB port
Bluetooth
BMW Intelligent Personal Assistant
BMW ConnectedDrive Services with real-time traffic
Wireless charging
Safety and Driver-Assist Technologies
The 2022 Audi Q7 vs. 2022 BMW X5 share several driver-assist technologies, including:
Collision Avoidance Warning and Automatic Emergency Braking
Blind spot monitoring
Rear Cross-Traffic Alert
Adaptive Cruise Control
Rear park assist
However, the X5 also includes a driver attention alert, which detects when you are no longer paying attention and reminds you to take a break. This feature is not present in the Q7.
More importantly, when it comes to safety, NHTSA tests in the U.S. proved that the X5 is a safer vehicle than the Audi Q7, especially in the event of a collision.
2022 Q7 vs. X5: Stylistic Differences
When it comes to style and overall design, the 2022 Audi Q7 vs. 2022 BMW X5 could not be more different: while Audi focuses on elegance with its smooth lines, BMW is a much sportier vehicle that stands out with its distinctive nose and more aggressive lines.
Both are equipped with bright LED headlights and large 20-22 inch wheels.
However, while the Q7 offers up to 9 beautiful colours to choose from depending on the version, the X5 takes customization to another level.
In fact, there are no fewer than 25 colours available for those who choose the BMW!
Both sides boast luxurious interiors with leather seats with numerous adjustments. The X5 offers the optional Vernasca leather upholstery while the Q7 offers Valcona leather/Cricket leather.
The luxurious interiors of both models feature high-quality finishes made from natural wood and piano black trims and offer plenty of colours to choose from.
2022 BMW Q7 vs. 2022 Audi X5: what are their prices?
As you can see, the BMW X5 offers slightly better performance, greater capabilities and a superior safety rating. These advantages are reflected in its higher starting price of $82,052.
The Audi Q7 is slightly less expensive with a base price of $70,500. Your final decision will depend on your priorities!
Conclusion
All in all, the 2022 BMW X5 is the SUV for those who love sports vehicles with incredible performance, but the Audi model doesn't lag too far behind. If you mostly desire luxury and entertainment technologies, both are quite similar, but BMW surpasses Audi when it comes to safety.
To learn more about Audi vehicles, visit your local Audi Canada dealer.
If you are interested in the BMW X5, be sure to stop for a visit at BMW West Island in Montreal, near Laval.
2022 Audi Q7 vs. 2022 BMW X5: Overview Chart
Whichever brand you are a fan of, you can find out what these two German SUVs have to offer here:
Models
Price
Engine
Power / Torque
Towing Capacity
Cargo Volume

Audi Q7

Komfort 45

Komfort 55

$70 500

$75 000

4L 2.0L

3.0L V6

248 hp / 273 lb-ft

335 hp / 369 lb-ft

4,409 lbs.

7,701 lbs.

402 L - 2027 L

Progressiv 45

Progressiv 55

$75 900

$80 700

4L 2.0L

3.0L V6

248 hp 273 lb-ft

335 hp 369 lb-ft

4,409 lbs.

7,701 lbs.

402 L - 2027 L
Technik 55
$87 900
3.0L V6
335 hp / 369 lb-ft
7,701 lbs.
402 L - 2027 L
SQ7
$106 900
4.0L V8
500 hp / 568 lb-ft
7,701 lbs.
402 L - 2027 L
BMW X5x Drive40i
$82 052
6L 3.0 L
335 hp / 331 lb-ft
7,209 lbs.
960 L - 2047 L
M50i
$98 752
4.4L V8
523 hp / 553 lb-ft
7,209 lbs.
960 L - 2047 L
M Competition
$130 000
4.4L V8
617 hp / 553 lb-ft
7,209 lbs.
960 L - 2047 L