2023 BMW I4: PRICE, SPECS, DIMENSIONS…
2023 BMW I4: PRICE, SPECS, DIMENSIONS…
Posted on June 5, 2023
BMW, the German automobile manufacturer, has made a dazzling debut on the electric vehicle market. Find out more about the 2023 BMW i4 prices and specs with your BMW West Island dealership.
Do not hesitate to come and visit us as early as today, to take full advantage of the best BMW special offers in Montreal.
2023 BMW i4: Technical Specifications
The different available trim levels
BMW Canada has commercialized three different trim levels of the i4 electric sedan:
| Trim Levels | Base Price |
| --- | --- |
| eDrive35 | $ 55,240 |
| eDrive40 | $ 61,390 |
| M50 | $ 77,500 |
To find out more about the previous version, take a look at the 2022 BMW i4 specs sheet.
Battery, Range and Power
As stated above, this electric BMW comes with three different powertrains. Here is a summary table of the performance these different options offer:
Trim Levels
Power / Torque
Range
eDrive35
66 kWh
281 HP / 295 lb-ft.
412 km
eDrive40
83.9 kWh
335 HP / 317 lb-ft.
484 km
M50
83.9 kWh
536 HP / 586 lb-ft.
435 km
No matter the powertrain, the BMW i4 offers outstanding performance. BMW is one of the manufacturers that bests understands how an electric vehicle works.
Towing Capacity and Cargo Space
When it comes to the towing capacity, the BMW i4 can tow up to 3,500 lbs, when equipped with a trailer with brakes.
As for cargo space, the i4 is quite generous. The trunk can hold up to 470 L of cargo and is very easy to access thanks to the way the tailgate opens. Once you fold down the seats, you will have access to up to 1,290 L of cargo space.
2023 BMW i4: Dimensions
Here are the BMW i4 dimensions:
| Dimensions | BMW i4 |
| --- | --- |
| Length | 4,782 mm (188.2 inches) |
| Width | 1,851 mm (72.9 inches) |
| Height | 1,447 mm (57.0 inches) |
| Wheelbase | 2,865 mm (112.8 inches) |
BMW Technologies on Board
Added Technologies
The BMW i4 includes a curved screen that acts both as a 14.9- inch infotainment screen and a 12.3- inch instrument cluster screen.
Together, both of these information centers offer:
Remote updates
Apple CarPlayMD and Android AutoMD wireless compatibility
Wi-Fi hotspot
Integrated navigation
And so much more!
For the price of the 2023 BMW i4, you will have a very well equipped vehicle.
Safety Features and Driver Assist Technologies
Providing you with an unparalleled driving experience is one of BMW's trademarks. With the i4, you will have access to a complete range of driver assist technologies, like:
Adaptive cruise control
Front collision warning
Automatic emergency braking
Rear-view camera
And so many more features!
As you can see, you will always feel comfortable and safe at the wheel of your BMW i4.
The BMW Style, both Athletic and Elegant!
Exterior Design
The BMW style is apparent and recognizable from the moment we lay eyes on the i4. Athletic and aerodynamic shapes are a testament to the sedan's sports performance and capacities. A squarer shape also gives it a more aggressive look.
The kidney grille is very obvious on the i4, acting as a secondary emblem for the German manufacturer.
In short, the BMW i4 is a vehicle that stays true to the BMW style, which –let's be honest- is something we love!
Available Exterior Colours
There are 13 body colors offered on the BMW i4. The base color is a non-metallic white that provides the luxury sedan with an understated yet elegant look.
You could also choose one of the 12 colours with a metallic finish, allowing you to customize your BMW according to your taste.
Amongst the available metallic colors, you will find:
Sunset Orange Metallic;
Tanzanite Blue Metallic;
Aventurin Red III Metallic;
Sanremo Green Metallic;
And many more options that are just as stunning!
Interior Design
The interior style of the i4 is also customizable according to your taste.
Standard offered upholstery is in SensaTec. You can also opt for Vernasca or Merino leather, depending your desired level of luxury.
Moreover, the generous amount of legroom at the back is not something we can easily find on most sports vehicle.
The BMW i4 is designed for everyone's comfort.
Available Interior Colours and Finishes
When it comes to interior finishes, you will have the choice between aluminum, carbon fiber or oak wood trims.
Leather upholstered seats are also available in several different colors, like:
Black
Fjord Blue
Fiona Red
Ivory White
And many more options!
No matter the style you are looking for, you will certainly find something you love.
2023 BMW i4 and i4 M: Price for Each Trim Level
The 2023 BMW i4 starts at $ 55,240 with the eDrive35 trim level. You can also choose the eDrive40 engine, for $ 61,390.
As for the price of the i4 M, it starts at $77,500 and offers the most amazing BMW i4 spec sheet.
Conclusion
If you are looking for a sports sedan that combines an impressive range with outstanding power, without forgetting divine comfort and a stunning design, then the BMW i4 is the vehicle for you.
BMW West Island, is your dealership in Montreal, close to Laval. Come and visit us today to take full advantage of BMW financing for the purchase of your next vehicle!
2023 BMW i4 and i4 M: Price and Specs
Here is a summary table of the BMW i4 specs:
Features
eDrive 35
eDrive 40
M50
Price
$ 55,240
$ 61,390
$ 77,500
Power/Torque
281 HP / 295 lb-ft.
335 HP / 317 lb-ft.
536 HP / 586 lb-ft.
Range
412 km
484 km
435 km
Cargo Space
470 L / 1,290 L
Maximum Towing Capacity
3,500 lbs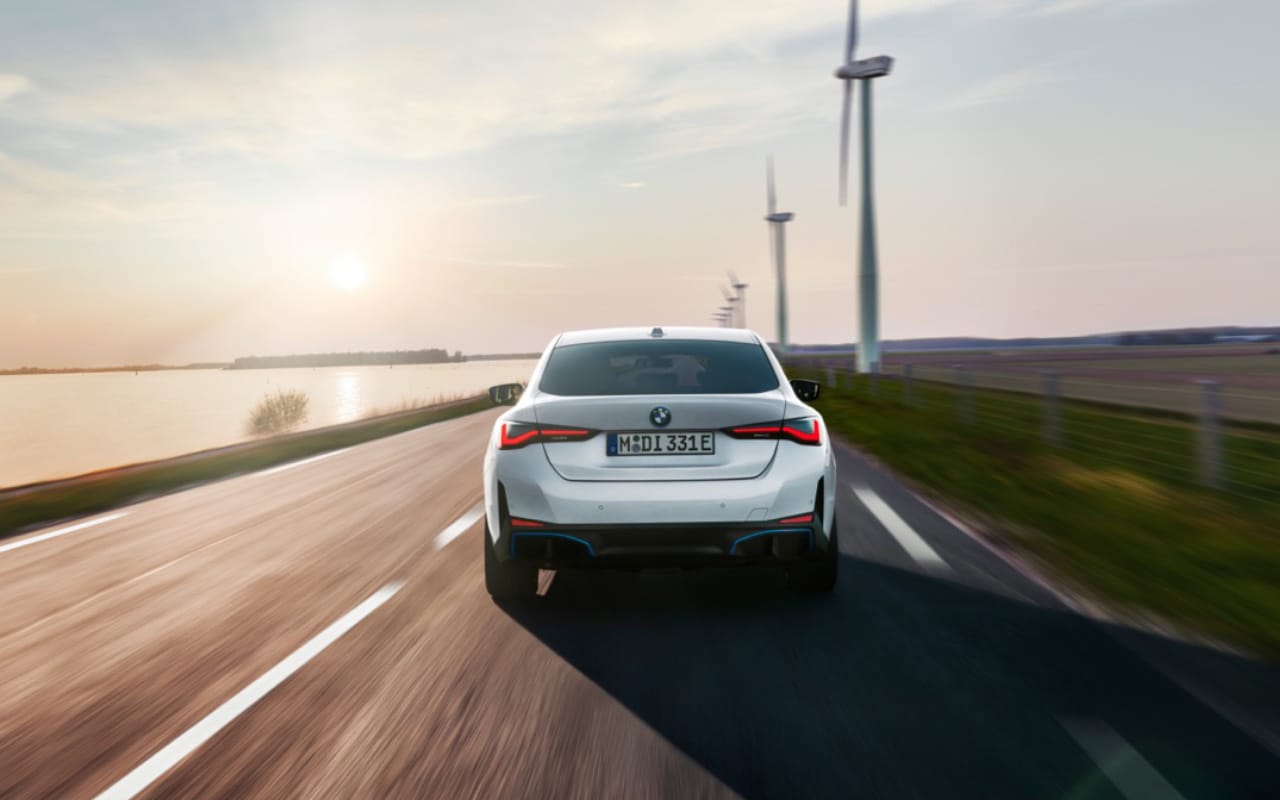 ---
2022 BMW i4 and i4 M50
The time has come for green mobility, even among luxury carmakers. In fact, BMW has been moving in that direction for some time now.
The German manufacturer designed two vehicles a few years ago and demonstrated real expertise in green technology with two vehicles: the i3, a cutting-edge subcompact that makes it a breeze to drive through the city; and the i8, which proved once and for all that racing and environmental concerns can work together.
However, these two extraordinary cars were designed for niche segments and did not target the true area of expertise of the Bavarian manufacturer: premium sedans with a heart for racing. However, that's all old news, and BMW just showcased its new 2022 i4 line-up, a 100% electric sedan with a very athletic profile.
BMW West-Island, your reference BMW dealer in the West Island of Montreal, tells you all about the pricing and specs of the 2022 BMW i4 and the 2022 BMW i4 M50. Continue reading to discover what they can do!
2022 i4 Line-Up: Versions and Price
First things first, let's talk about the different versions of the 2022 BMW i4 and i4 M and their prices.
The table below summarizes that information:
Model
Type of bodywork
Number of doors
Seats
Trunk volume
Starting at**.
2022 BMW i4 eDrive40
Compact three-box sedan
5
5
470 L (1.290 L with rear seats folded down)
$54.990
2022 BMW i4 M50 xDrive
$72.990
2022 BMW i4 eDrive40
2022 BMW i4 M50
We can see that two versions are available.
The eDrive40 is the entry-level version of the new BMW line-up.
The M50 xDrive is the only "2022 BMW i4 M" and is intended to be the most powerful version available. Those upgrades are reflected in its higher price.
As for their dimensions, as the name suggests, the i4 is similar to the current 4 Series line-up.
We saved the best for last: with a starting price of $54,990, purchases of the 2022 BMW i4 will be eligible for the $8,000 government rebate in Quebec!
Exterior and interior design of the 2022 i4 and i4 M50: simply breathtaking!
Exterior design:
Let's take a look at the exterior, which will be your first point of contact with the 2022 BMW i4 and 2022 i4 M50 when they arrive near Laval at BMW West Island in the first quarter of 2022!
Both versions display many coupe-like features, including their lengthened hood, receding interior, a flowing roofline and a very compact rear end. These lines are further enhanced by the huge double-kidney front grille which fully takes over the front fascia, as well as by the ultra-aggressive and streamlined headlights, its short overhangs, and its sharp rear lights.
Despite its sporty side, the new i4 offers 4 real doors to access the cabin as well as a hatchback for added versatility. You'll enjoy all the practicality of a sedan without sacrificing an ounce of style!
Make it your own and stand out in the city thanks to its great selection of vibrant colours, including Sunset Orange Metallic, Tanzanite Blue Metallic, and even Aventurine Red Metallic!
2022 BMW i4 eDrive40
2022 BMW i4 M50
Interior design:
The interior is just as irresistible: with the complex geometry of its air vents, its sober dashboard and driver-oriented cockpit, not to mention its curved display and instrument cluster, the interior seamlessly blends class and futurism to deliver a streamlined and elegant cabin for maximum driving pleasure.
Both the 2022 BMW i4 eDrive40 and the 2022 BMW i4 M50 xDrive can seat up to five passengers comfortably, and everyone can bring along all their belongings thanks to its generous cargo space. Travel comfortably no matter how far you are going!
You can also customize the materials and colours of the interior. As for the upholstery, you can choose between Sensatec with perforated Canberra Beige, Cognac or Black, or leather Vernasca Tacora Red, Black or Mocha. There is truly something for everyone!
You can also choose from a variety of interior trims to design a cabin that reflects your style, so you can fully enjoy every trip from the West Island to anywhere on the island of Montreal!
Upholstery | 2022 BMW i4 eDrive40
Upholstery | 2022 BMW i4 M50
BMW i4 and i4 M: technical specs that no one can match!
A premium sedan is not truly judged by its looks, but by its specs. And the 2022 BMW i4 eDrive40 and the 2022 BMW i4 M50 are no exception to this rule, even if they are all-electric!
We've taken a look at the spec sheet provided by BMW Canada, and it's nothing but good news for the 2022 BMW i4 in Montreal.
Their specs are summarized below in a table:
| Model | Engine/power/torque | Drivetrain/Transmission | Autonomy | 0-100 km/h |
| --- | --- | --- | --- | --- |
| BMW i4 eDrive40 | Drivetrain: 100% electric (1 rear motor + 83.9 kWh battery, of which 81.5 kWh are usable) / 335 hp / 317 lb-ft | RWD / 1 speed automatic | Up to 475 km | 5.7 s. |
| 2022 BMW i4 M50 xDrive | Powertrain 100% electric twin engine (255 hp front engine + 308 hp rear engine + 83.9 kWh battery of which 81.5 kWh is usable)/ 536 hp/ND. | AWD/N/A. | Up to 385 km | 3.9 s. |
It's easy to see that both BMW sedans offer incredible acceleration, with 0-100 km/h times that would make many sports cars in the Greater Montreal area blush. And that's despite being much more practical for everyday life!
That being said, each i4 is designed for different audiences. For an extreme experience, top-notch performance and maximum range, you should choose the rear-wheel drive eDrive40. Its powertrain relies on a single engine and boasts an estimated WLTP range of 475 km.
For an exceptional performance that's safe to experience even in the winter, you'll want to choose the 2022 i4 M50 xDrive with all-wheel drive, which delivers up to 536 hp to all four wheels.
Both versions are equipped with the 83.9 kWh battery, which can charge 100 km of range in just 7 minutes with a 150 kW DC fast-charging station. You'll never run out of power for your daily commute.
The Munich-based manufacturer made it clear that sporty driving and environmental concerns go hand in hand, and we are amazed with it!
The 2022 BMW i4 and 2022 i4 M50: at the cutting edge of onboard technology!
Featured Onboard Technologies
We saved the best for last: the onboard equipment and technologies!
Depending on the model you choose, you will enjoy:
A fully digital 12.3-inch instrument panel.
A 14.9-inch multi-function control display.
Apple CarPlay and Android Auto integration come standard.
A premium sound system with 464 watts of power.
Head-up display, which also comes standard.
Dashboard | 2022 BMW i4 eDrive40
Dashboard | 2022 BMW i4 M50
You and your passengers will have everything you need to travel in complete comfort, no matter how long the journey!
There's no doubt, the 2022 i4 and i4 M50 are the premium four-door fully-electric sedans you've been waiting for!
With its 2022 i4 line-up, BMW is putting all of its expertise into a premium electric sedan. With an exhilarating performance, elegant and beautiful designs both for the cabin and the exterior, not to mention cutting-edge onboard technologies, it is pushing the boundaries of this segment in the West Island.
If you have any questions regarding the price of the 2022 BMW i4 and 2022 BMW i4 M, simply give us a call or stop by for a visit at BMW West-Island, your BMW dealer par excellence in Montreal, near Laval!
We'll be happy to answer any questions you have, and we'll tell you all about our BMW leasing and financing programs that will get you back behind the wheel of your new electric BMW.
See you soon at our dealership!
Price and specs of the 2022 BMW i4 and BMW i4 M:
 
2022 BMW i4 eDrive40
2022 BMW i4 M50 xDrive

Powertrain

100% electric motorization

83.9 kWh battery, of which 81.5 kWh is usable

100% electric, Twin engine

83.9 kWh battery, of which 81.5 kWh is usable

Power

Single rear engine - 335 horsepower

Front engine - 255 horsepower

Rear engine - 308 horsepower

Torque

317 lb-ft

N/A

Drivetrain

RWD

AWD

Gearbox

1-speed automatic

1-speed automatic

Autonomy

Up to 475 km

Up to 385 km

Charging time

Full charge with BMW Wallbox or flexible fast charger: 9.5 h / 7 min charge time for 100 km of range with 150 kW DC fast charger

0-100 km/h

5.7 s.

3.9 s.

Price

$54.990

$72.990
BMW AG estimates based on WLTP standards, pending official EPA ratings.
Prices shown are those of the manufacturer as outlined by the manufacturer on its Canadian website. These are accurate estimates at the time of writing, as is the data contained in this article. However, errors may occur. For any price of a specific model or any other question please contact us.
2022 BMW i4 eDrive40
2022 BMW i4 M50