2023 BMW IX VS I4: PRICE, DIFFERENCES, SPECS, ETC.
2023 BMW IX VS I4: PRICE, DIFFERENCES, SPECS, ETC.
Posted on April 25, 2023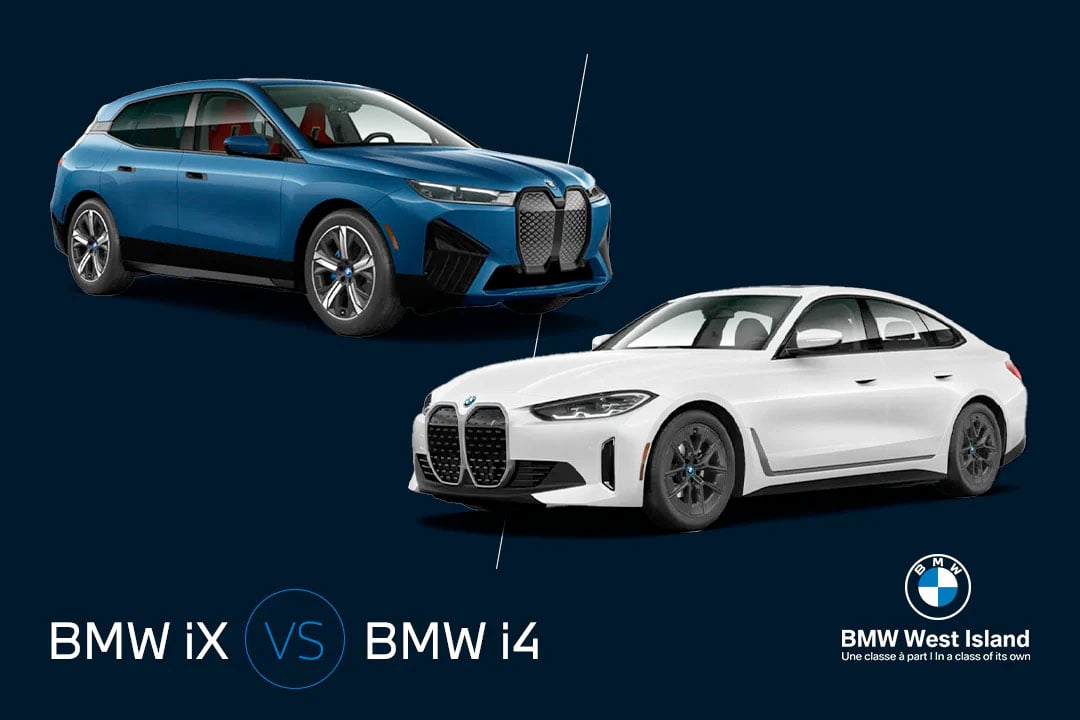 The different available trim levels
BMW Canada presents both of these electric vehicles in three trim levels, depending on selected powertrain:
| BMW iX | BMW i4 |
| --- | --- |
| xDrive40 | eDrive35 |
| xDrive50 | eDrive40 |
| M60 | M50 |
Powertrain and Power
Both of these vehicles are equipped with powerful electric powertrains. Here is a quick comparison of the power they offer:
| Features | BMW iX | BMW i4 |
| --- | --- | --- |
| Powertrain #1 | xDrive40 | eDrive35 |
| Power / Torque | 332 ch. / 465 lb-pi | 281 ch. / 295 lb-pi |
| Powertrain #2 | xDrive50 | eDrive40 |
| Power / Torque | 516 ch. / 564 lb-pi | 335 ch. / 317 lb-pi |
| Powertrain #3 | M60 | M50 |
| Power / Torque | 610 ch. / 811 lb-pi | 536 ch. / 586 lb-pi |
The brute force offered by the iX is truly impressive. However, it is important not to underestimate just how agile the i4 sedan really is.
2023 BMW iX

2023 BMW i4

Towing Capacity and Cargo Space
In the BMW i4 electric sedan, the trunk alone offers 470 L of cargo space. For the BMW iX, you will have access to 1,005 L.
When rear seats are folded down –which is easily accessible on both vehicles- you will have access to a total of 1,290 L of cargo space in the i4 and up to 2,205 L in the BMW iX.
When it comes to the towing capacity, the BMW i4 vehicle offers an impressive amount for a sedan. With the optional towing package, you will be able to tow a trailer with brakes for a maximum of 3,500 lbs.
As for the iX, you will have a towing capacity reaching up to 5,500 lbs, with a trailer equipped with brakes.
It is not surprising here to have the iX coming out on top, since SUVs are vehicles that are first and foremost designed for the "utility" they offer. The simple fact that the i4 vehicle can be compared to it, demonstrates the high quality of this sedan.
Vehicle Dimensions
Here are the dimensions for the BMW iX and BMW i4:
| Dimensions | BMW iX | BMW i4 |
| --- | --- | --- |
| Length | 4,953 mm | 4,782 mm |
| Width | 1,967 mm | 1,851 mm |
| Height | 1,696 mm | 1,447 mm |
| Wheelbase | 3,000 mm | 2,865 mm |
When they are side by side, it is easy to see that the BMW electric SUV is a lot bigger. This also means that the i4 is a much more agile vehicle that is easy to maneuver in urban settings.
BMW Technologies on Board
Added Technologies
Given that they are both BMW vehicles, they share lots of similar added technologies.
The main example of this is in the curved screen that combines a 14.9- inch infotainment center with a 12.3- inch digital instrument cluster. Moreover, both also offer:
Apple CarPlayMD and Android AutoMD compatibility
Voice recognition
Bluetooth connectivity
And so much more!
The iX comes standard equipped with some of the technologies that are only offered as an option on the i4, like the wireless charging pad for example.
Music lovers might also be drawn to the outstanding 30- speaker Bowers & Wilkins sound system, available on the iX.
Safety Features and Driver Assist Technologies
As for the safety features and the driver assist technologies, both BMW will provide you with a wide variety of systems, like:
Cruise Control
Pedestrian Detection system
Front Collision Warning
And much more.
They both offer all of the necessary technologies –and more- to make your driving experience as enjoyable as possible. In this aspect, there are not many significant differences between the 2023 BMW iX and i4.
Dashboard - BMW iX 2023
Dashboard - BMW i4 2023
Esthetic Differences
When it comes to looks, it is easy to tell that both vehicles were made by the same automobile manufacturer.
Although they share a similar style, there are still noticeable differences between the 2023 iX vs i4. The BMW iX, for example, is square shaped at the front and rear, giving it a more imposing look.
The rounder silhouette of the BMW i4 also provides it with a more athletic look, while still maintaining a BMW style. This look also includes the famous kidney grille that the luxury sedan also shares with the iX.
As for the interior and exterior colors, the i4 generally offers more color options. For example, you will have optional green body colors or blue leather upholstered seats, offered to you upon purchase. These colors accentuate the sportier shape.
Cockpit - BMW iX 2023
BMW iX vs i4: What are the prices?
The BMW sedan is the most economical option of the two. The i4 sells at a base price of $ 55,240for the eDrive35 powertrain. For the eDrive40, the price climbs to $ 61,390.
Finally, the BMW i4 M50 starts at $ 77,500.
As for the luxury electric SUV, you can get your hands on the iX for $ 79,990 with the xDrive40 powertrain. The xDrive50 starts at $ 93,000.
As for the BMW iX M60, the price climbs to $ 121,750.
Do not hesitate to take a look at our advantageous special offers today, helping you save as much as possible on your purchase, with BMW West Island, close to Laval.
SUV vs Sedan: Pros and Cons
The main advantage of the SUV is stated in its name: "utility". In fact, the SUV is a vehicle that focuses on versatility. It generally offers a greater amount of cargo space and more interior space for your passengers.
Moreover, it is also generally better for adventures off the beaten path thanks to a greater ground clearance.
As for the sedan, it is perfectly adapted to urban settings.
This vehicle's smaller size also makes it more agile. Several drivers also prefer the driving experience offered by a sedan, finding it more reactive, given the lower ground clearance.
In Short
In a comparison between the 2023 BMW iX vs i4, we could always pick a "winner".
However, before declaring the iX the winner, it is important to take into account the higher price, along with the basic and essential differences between sedans and SUVs in general.
To take advantage of BMW financing , come and visit us today at BMW West Island, your dealership in Montreal, close to Laval.
BMW iX vs i4: At a glance
Here is a summary table to help you quickly identify the differences between both BMW vehicles:
Features
BMW i4
BMW iX
Price and Trim Levels
eDrive35 :$ 55,240
eDrive40 :$ 61,390
M50 :$ 77,500
xDrive40 :$ 79,990
xDrive50 :$ 93,000
M60 : $ 121,750
Power / Torque
eDrive35 : 281 HP / 295 lb-ft.
eDrive40 : 335 HP / 317 lb-ft.
M50 : 536 HP / 586 lb-ft.
xDrive40 : 332 HP / 465 lb-ft.
xDrive50 : 516 HP / 564 lb-ft.
M60 : 610 HP / 811 lb-ft.
Cargo Space
470 L / 1,290 L
1,005 L / 2,205 L
Towing Capacity
3,500 lbs
5,500 lbs