2022 BMW 2-Series Coupe: Price and Specs
2022 BMW 2-Series Coupe: Price and Specs
Posted on October 1, 2021
Since going into production in 2014, the BMW 2-Series has been a resounding success in the premium subcompact category between Laval and Montreal, and everywhere in the country.
With its athletic yet elegant lines, its exceptional performance that would put many sports cars to shame, and technology and luxury worthy of the higher categories, the little BMW set the bar in its segment and established its reputation of excellence.
The recently redesigned 2-Series Coupe continues this trend in style and represents the purest embodiment of sport in the line-up, especially in its M240i version.
BMW West-Island, your reference BMW dealer in the area of the same name, tells you all about the pricing and specs of the 2022 BMW 2-Series Coupe and reveals all about the M240i.
2022 BMW 2-Series Coupe: price and available versions.
The 2022 BMW 2-Series Coupe is offered at a starting price of $56,950. As its name suggests, it's the coupe version of the famous 2-Series.
For the time being, only one version is available: the M240i xDrive. However, a more affordable version, the 230i xDrive, is set to launch in the Canadian market later on.
It is expected to feature a turbocharged four-cylinder engine, like the current Gran Coupe. However, at the time of writing, BMW Canada has released no information, so this information has not been confirmed yet.
2022 BMW 2-Series Coupe: pure BMW style and boldly original!
Exterior Design
The stylish exterior will be your first point of contact with the 2022 BMW 2-Series Coupe when you stop by for a visit in the West Island of Montreal to discover the new line-up. Word of warning: you will fall head over heels at first sight!
The grille features the brand's iconic double kidneys, while the headlights are reminiscent of the BMW 2002 from the sixties and seventies. The fenders are curved and wide, the hood stretches forward and the interior is very narrow, while the taillights are angular and complex. Simply put, the 2022 BMW 2-Series Coupe follows the authentic BMW style at first glance, while breaking with the manufacturer's most recent aesthetic direction. It's a real breath of fresh air in a segment that is often conservative and risk-averse!
And with body colours as exclusive as Techno Purple Metallic, you can customize the style of your 2022 BMW 2-Series Coupe in your image and truly enhance its look. Expect to turn heads as you drive between Montreal and Laval!
2022 BMW 2-Series Coupe | Techno Purple Metallic
Interior Design
Its original yet very-BMW design is also present in the cabin, with a sober and very geometric dashboard, but this time relying on oblique lines. The air vents follow the same trend and match perfectly with the overall design.
The cockpit is clearly driver-centric, featuring very ergonomic controls that are very intuitive.
These beautiful features are further enhanced by the wide selection of colours and upholstery available, including a magnificent burgundy red and a very-pure white. Create a beautiful interior that reflects your personality so you can enjoy every journey that much more!
Specs of the 2022 BMW 2-Series Coupe: performance worthy of the best sports cars!
A prestigious BMW coupe with a sporty bent, such as the 2022 BMW 2-Series in Montreal, proves its real worth with its spec sheet! And that couldn't be truer with this one.
In fact, BMW truly poured all of its expertise in the only version currently available, the 2022 BMW M240i xDrive. That can be easily seen in the data provided by BMW Canada and summarized in the table below:
| Model | Version. | Powertrain | Power | Torque |
| --- | --- | --- | --- | --- |
| 2022 BMW 2 Series Coupe | M240i xDrive | Six-cylinder 3.0 turbo | 382 horsepower | 369 lb-ft |
This is a noble engine (a six-cylinder), which is not often found in such a compact car.
Its turbocharged engine generates 382 horsepower and 369 lb-ft of torque. It is paired with an 8-speed automatic transmission, and allows the BMW coupe to reach 97 km/h (or the famous 60 mph in the U.S.) in just 4.1 seconds. Let's not forget its equally breathtaking top speed of 250 km/h, a speed rarely reached in this class.
Best of all, the M240i comes standard with xDrive all-wheel drive, which allows you to enjoy the full capabilities of your 2022 Series Coupe in complete safety, even in the middle of winter!
2022 M240i xDrive Coupe Onboard Equipment.
Onboard Technologies
While the 2022 M240i focuses on performance and the driving experience, it does not forget about luxury and comfort.
Depending on the 2022 BMW 2-Series Coupe that caught your eye, you could enjoy:
A fully digital 12.3-inch instrument panel;
Apple CarPlay and Android Auto wireless integration;
An infotainment system with a 10.25-inch touchscreen;
A 464 W Harman Kardon premium high-fidelity sound system with 14 speakers.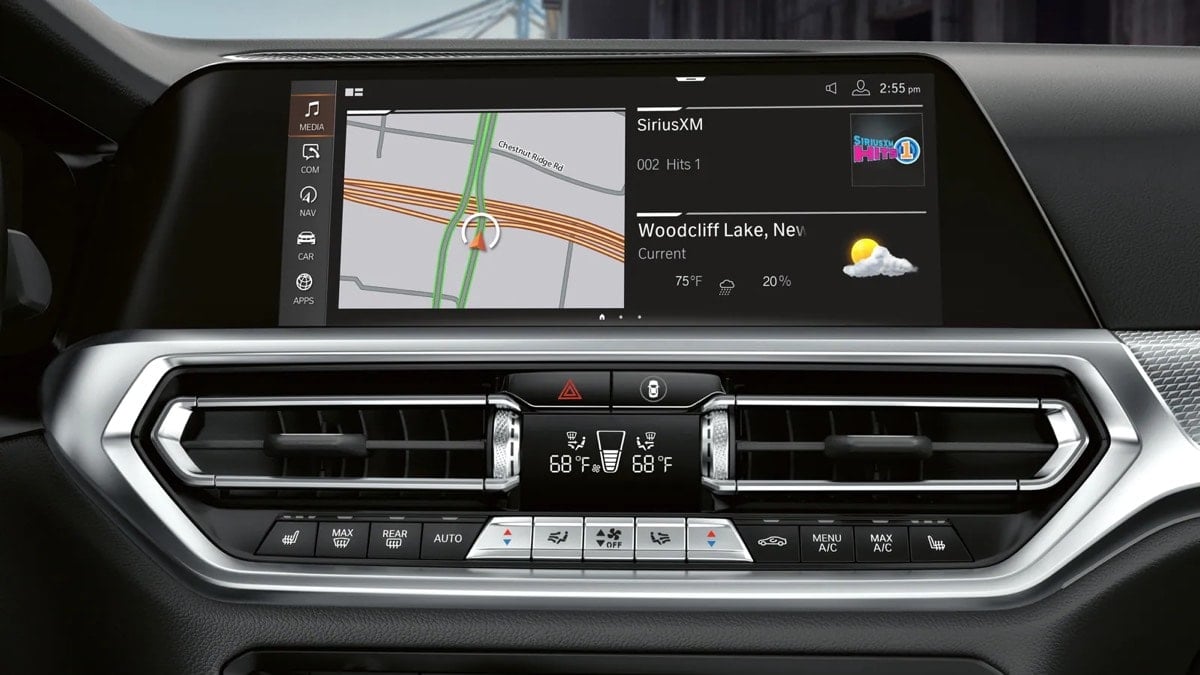 You and your passengers will have everything you need to enjoy your trips between the West Island, Laval, and the North Shore of the city!
Driver-Assist Features
In order to fully appreciate the comfort and innovations that BMW offers, you first must feel fully safe behind the wheel. And BMW has made sure that there's no cause for concern aboard the 2022 BMW 2-Series Coupe, as the Bavarian manufacturer has gone to great lengths to deliver the latest driver-assistance technologies.
You can rely on:
Forward collision warning;
Blind spot monitoring system;
Active Lane Keeping.
Enjoy your commute and your adventures with absolute peace of mind!
Still have questions on the price and specs of the 2022 BMW 2-Series Coupe, and more specifically those of the 2022 BMW M240i? Contact us or, better yet, stop by for a visit at BMW West Island, your reference BMW dealer in the West Island and serving Laval!
We will be happy to answer your questions, and we'll even share with you the latest BMW offers and the BMW leasing/financing programs so you can drive away with YOUR BMW sports coupe. See you soon at the dealership!
2022 BMW M240i: Price and Specs
Model
Variant.
Body type/number of doors/number of seats
Engine/power/torque
Drivetrain/Transmission
0 to 97 km/h (0 to 60 mph)
Lives. Max.
Price, starting from*.
2022 BMW 2-Series Coupe
M240i xDrive
Coupe/2-door.
Six-cyl. 3.0 turbo/ 382 hp/ 369 lb-ft
AWD/8-speed automatic
4.1 sec.
250 km/h
$56.950

Prices shown are those of the manufacturer as outlined by the manufacturer on its Canadian website. Prices shown are at the time of writing. However, errors may occur. For any the price of a specific model or any other question please contact u.s
2022 BMW 2-Series Coupe | Techno purple metallic