2023 BMW X1 vs X3: price, differences, specs, etc.
2023 BMW X1 vs X3: price, differences, specs, etc.
Posted on December 27, 2022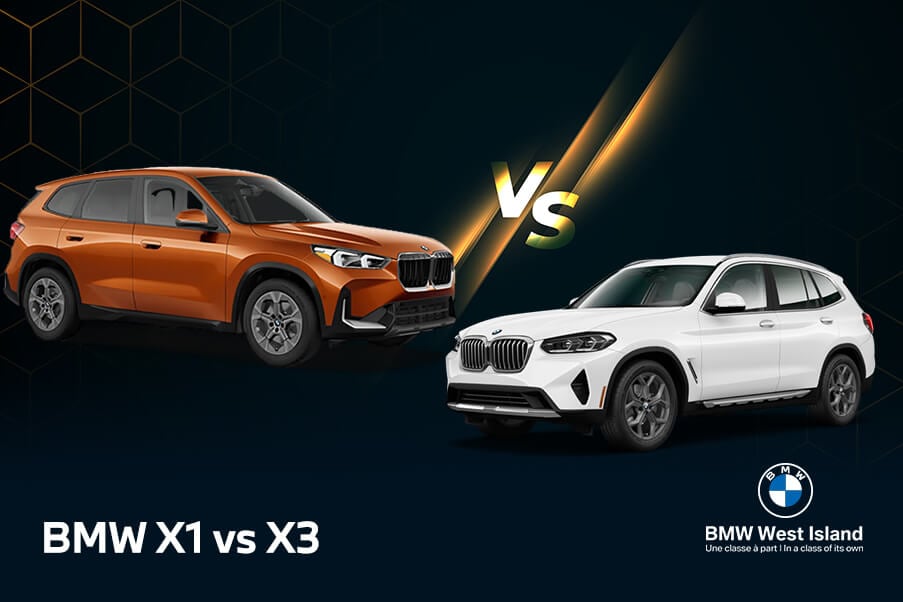 Compact or subcompact SUV? This question comes up more and more amongst drivers looking for a sturdy yet practical vehicle. If you are wondering which to choose between the 2023 BMW X1 vs 2023 BMW X3, read on below!
Your BMW dealership in the West Island in Montreal, close to Laval, offers this comparison between both BMW Canada models.
BMW X1 vs BMW X3: Comparing Specs
The different available trims
Let's begin by taking a look at what trims are available for the X1 vs X3. Here is what each one offers:
| Model | Trims |
| --- | --- |
| BMW X1 | xDrive28i |
| BMW X3 | xDrive30i xDrive30e M40i |
Although the X1 only offers 1 trim, it comes with two different options: the dual clutch Steptronic transmission or an automatic sports transmission.
2023 BMW X1 xdrive23i
BMW X3 xDrive30e
Powertrain and performance
Between the two, you will have access to four different powertrains, including a plug-in hybrid SUV with the X3: the xDrive30e. In case you are curious, find out more about how a hybrid vehicle works! Here is the power offered by both vehicles;
Models
Trims
Powertrain
Power/Torque
X1
xDrive28i
2.0 L 4- cylinder turbo
241 horsepower/ 295 lb-ft.
X3
xDrive30i
2.0 L 4- cylinder turbo
248 horsepower / 258 lb-ft.
xDrive30e
2.0 L 4- cylinder turbo + electric
288 horsepower / 310 lb-ft.
M40i
3.0 L 6- cylinder turbo + mild-hybrid
382 horsepower / 369 lb-ft.
2023 BMW X1 xdrive23i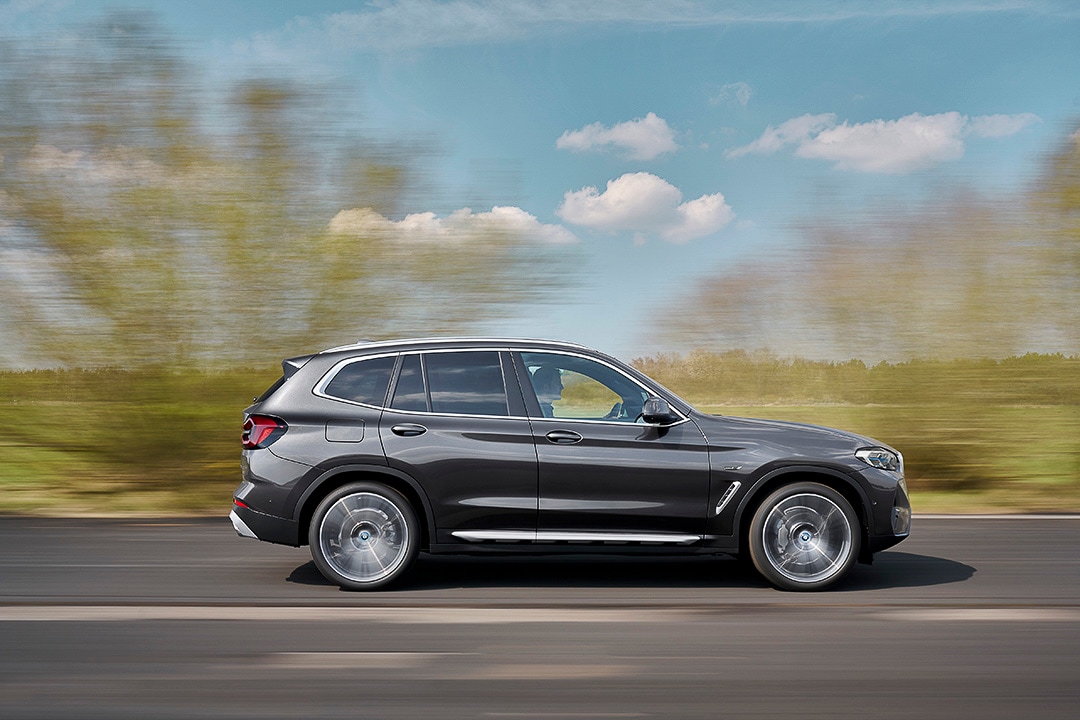 BMW X3 xDrive30e
Moreover, all BMW SUVs are standard equipped with all-wheel drive, providing you with peace of mind in every season.
Towing Capacity and Cargo Space
As often is the case with subcompact SUVs, towing is not recommended with the BMW X1. However, you will have access to generous cargo space compared to other vehicles of its category: in the trunk alone you will have up to 728 liters of cargo space, and when seats are folded down that number climbs up to 1,620 liters.
Slightly bigger, the BMW X3 offers a generous towing capacity of up to 4,400 pounds. When it comes to cargo space, it ranges between 813 and 1,775 liters.
Dimensions
The dimensions in regards to each model is one of the main differences between the 2023 BMW X1 vs BMW X3. Take note that the M40i version is slightly different in terms of size. Here is how they compare:
BMW Version :
X1
X3
X3 M40i
Length
4,500 mm
4,708 mm
4,713 mm
Width
1,845 mm
1,891 mm
1,897 mm
Height
1,642 mm
1,676 mm
1,669 mm
Wheelbase
2,692 mm
2,864 mm
2023 BMW X1 xdrive23i
BMW X3 M
BMW Technologies on board
Added Technologies
Both luxury SUVs offer a complete set of standard offered technologies, including standard features such as:
Integrated Navigation
Wireless Apple CarPlay and Android Auto
An intelligent voice activated assistant
Bluetooth connectivity
Let's also mention that the 2023 X1 has been improved this year and offers a new curved screen which combines 10.25- inch instrumentation with a 10.7- inch touch screen. With the 2023 X3, you will have access to a 10.25- or 12.3- inch central screen.
Safety Features and Driver Assist Technologies
Both BMW SUVs help you drive safely and with peace of mind thanks to loads of safety features such as:
High Beam Assist
Parking Assist
Rear Cross Traffic Alert
Front and Rear Collision Alert
Lane Departure Alert
And much more!
2023 BMW X1 xdrive23i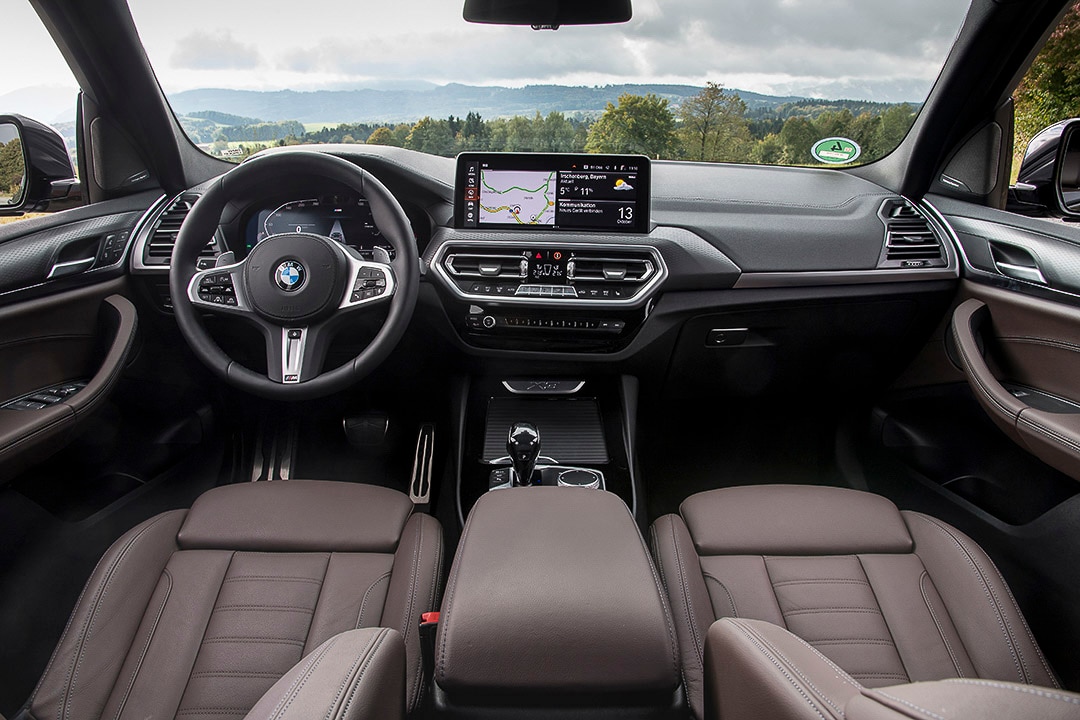 BMW X3 xdrive30d
X1 vs X3: Differences in Terms of Design
Firstly, the X1 has been made over for this newest generation, and now presents a much more athletic and imposing silhouette. It comes with 18- to 20- inch wheels and in a total of 13 body colors, including 5 new ones.
The X3 remains a little bit more imposing still, and comes with 19- to 21- inch wheels. You will have the choice between 11 body colors, with choices that are not as bold as the ones offered for the X1.
However, it will provide you with more interior options, including Merino or Vernasca leather in several different colors. The X3 and the X1 both come standard upholstered with a leather-like material called SensaTec.
The X1 offers optional trims like eucalyptus or aluminum, while the X3 takes this a step further by offering oak, ash or carbon fiber. The latter also offers climate control on three zones, while the X1 comes with automatic air conditioning on two zones.
BMW X1 vs X3: Prices?
The subcompact 2023 BMW X1 is offered at a base prices of $ 48,952. Given that the X3 is bigger, more powerful and more luxurious, it is also –obviously- a little bit more expensive. Prices range between $ 58,352 and $ 73,652, depending on selected trim.
Get a good deal by taking advantage of our special offers!
Conclusion
In short, those who are looking for an SUV that is a bit roomier while also offering slightly more luxury and power will naturally lean towards the X3. The X1 remains a very interesting option with a powerful standard offered engine, cutting-edge technologies and a refined interior but at a more affordable price.
No matter which vehicle you have your heart set on, BMW West Island in Montreal, close to Laval, offers customized BMW financing solutions.
BMW X1 vs BMW X3: at a glance
Here is all of the necessary information at a glance to simplify your choice between the 2023 BMW X1 2023 vs BMW X3:
BMW version :
BMW X1
BMW X3
Price
$ 48,952
$ 58,352
$ 68,142
$ 73,652
Trim
xDrive28i
xDrive30i
xDrive30e
M40i
Powertrain
2.0 L 4- cyl. L turbo
2.0 L 4- cyl. L turbo
2.0 L 4- cyl. L turbo + electric
3.0 L 6- cyl. turbo + mild-hybrid
Power/Torque
241 HP/ 295 lb-ft.
248 HP / 258 lb-ft.
288 HP/ 310 lb-ft.
382 HP/ 369 lb-ft.
Cargo Space
728 to 1,620 L
813 to 1,775 L