2024 BMW X5 and X5 M: Price and Specs
2024 BMW X5 and X5 M: Price and Specs
Posted on May 9, 2023
The BMW X5 – starting at $ 89,735 (MSRP) – is one of the most popular in its segment. It offers excellent performance and an athletic design that is sure not to go unnoticed. It is back, this year, with a few improvements and even more power.
Find out more about the BMW X5 and its specs, with BMW West Island. You might also want to take a look at our BMW special offers in Montreal!
2024 BMW X5 and X5 M: Price and Trim Levels
The X5 is a midsize sports vehicle while the X5 M is a high-performance trim of this same BMW SUV.
You can find the entry-level trim of the 2024 BMW X5 for $ 89,735.
2024 BMW X5: starting at $ 89,735 (MSRP)
2024 BMW X5 plug-in hybrid: starting at $ 94,235 (MSRP)
2024 BMW X5 M: starting at $110,482 (MSRP)
2024 BMW X5 M Competition: starting at $ 154,882 (MSRP)
The different trims offered are the xDrive40i, the xDrive50e –the plug-in hybrid-, and the powerful M60i and M Competition.
2024 BMW X5 and X5 M: Interior and Exterior Design
The BMW X5 models provide you with a luxury interior loaded with customizable options, including colors, materials and fit and finishes. Merino leather upholstery is optional with the X5, but standard offered on the X5 M Competition trim.
Sport front seats or comfort seats are also offered for added support and numerous settings. Heated and ventilated front seats and heated rear seats are available, along with 4- zone air-conditioning, and so much more!
On the outside, the X5 offers:
A standard offered X-Line package
20- to 22- inch rims with new designs
New body colors (including Marina Blue)
A panoramic sunroof
A BMW Iconic Glow lighted grille, optional
Etc.
The X5 M adds exclusive features, including a M Sport exhaust system, a more aggressive looking kidney grille, M side mirrors, and so much more.
2024 BMW X5 and X5 M: Dimensions
The BMW X5 is designed to offer optimal interior space, welcoming up to 5- passengers. Here are the dimensions for the different trims:
BMW X5: DIMENSIONS
Length:
4,935 mm
Width:
2,004 mm
Height:
1,753 mm
BMW X5 M COMPETITION: DIMENSIONS
Length:
4,938 mm
Width:
2,015 mm
Height:
1,748 mm
2024 BMW X5 and X5 M: Specs
The specs for the BMW X5 fuel trims include a 3.0 L 6- cylinder engine with 375 horsepower and 383 lb-ft. maximum torque, or up to 398 lb-ft. thanks to the new 48 volt mild hybrid system.
The plug-in hybrid powertrain also increases in power this year, now offering 483 horsepower and 516 lb-ft. maximum torque!
As for the X5 M, it is equipped with a twin-tubo 4.4 L V8 with 523 horsepower and 553 lb-ft. maximum torque, or up to 617 horsepower with the M Competition. This trim also allows you to accomplish the 0-97 km/hr in as little as 3.7 seconds!
Powertrain and Power
The BMW X5 offers several choices of powerful engines:
Features
BMW X5
BMW X5 M
Powertrain
Turbocharged inline 6- cylinder with intercooler fuel/electric
Twin-turbo V8 fuel/electric
Displacement
3.0 L
4.4 L
Power
375 HP (fuel)
483 HP (hybrid)
523 HP
617 HP (M Competition)
Torque
383 lb-ft.
516 lb-ft. (hybrid)
553 lb-ft.
Battery Range
64 km
29.5 kWh
48 volt Mild Hybrid Sysem
Towing Capacity and Cargo Space
The BMW X5 offers an impressive towing capacity of 7,200 pounds! Moreover, it does not make any compromises when it comes to interior space. You will have up to 960 L of cargo space in the trunk alone, and when seats are folded down, this climbs to 2,047 L.
The plug-in hybrid offers cargo space that ranges between 937 and 2,016 L, along with a maximum towing capacity of up to 5,950 pounds.
2024 BMW X5 and X5 M: On-Board Technologies
BMW remains loyal to its reputation by offering equipment worthy of the best. You can expect German quality with a high-end infotainment system and a very advanced safety system.
On-Board Technologies
A new curved screen links the digital driver cluster (12.3- inches) to the central screen (14.9- inches) for an even more modern look. You will find the following features, among others:
BMW Intelligent Personal Assistant
The iDrive 8 Operating System, quicker and more intuitive
Hands free Bluetooth Interface
Wireless Apple CarPlay and Android Auto
A 16- speaker Harman Kardon sound system, optional
Safety Features and Driving Assistance Systems
The BMW X5 models offer cutting-edge Driving Assistance technologies, including:
Parking Assistant
Lateral Parking Assistant
A rear back up camera with obstacle detection and guiding lines
Hill Descent Control
Blind Spot Detection system
Etc.
Takeaway
The BMW X5 and the X5 M are midsize SUVs that offer high levels of performance and numerous features, standard offered or optional. Get your next vehicle at your BMW dealership!
BMW financing options are offered to you. Do not hesitate to ask our team for more advice! We can also give you more information regarding the BMW X6 and its specs.
BMW X5 and X5 M: Price and Specs
Here is a summary of the BMW X5 and its specs: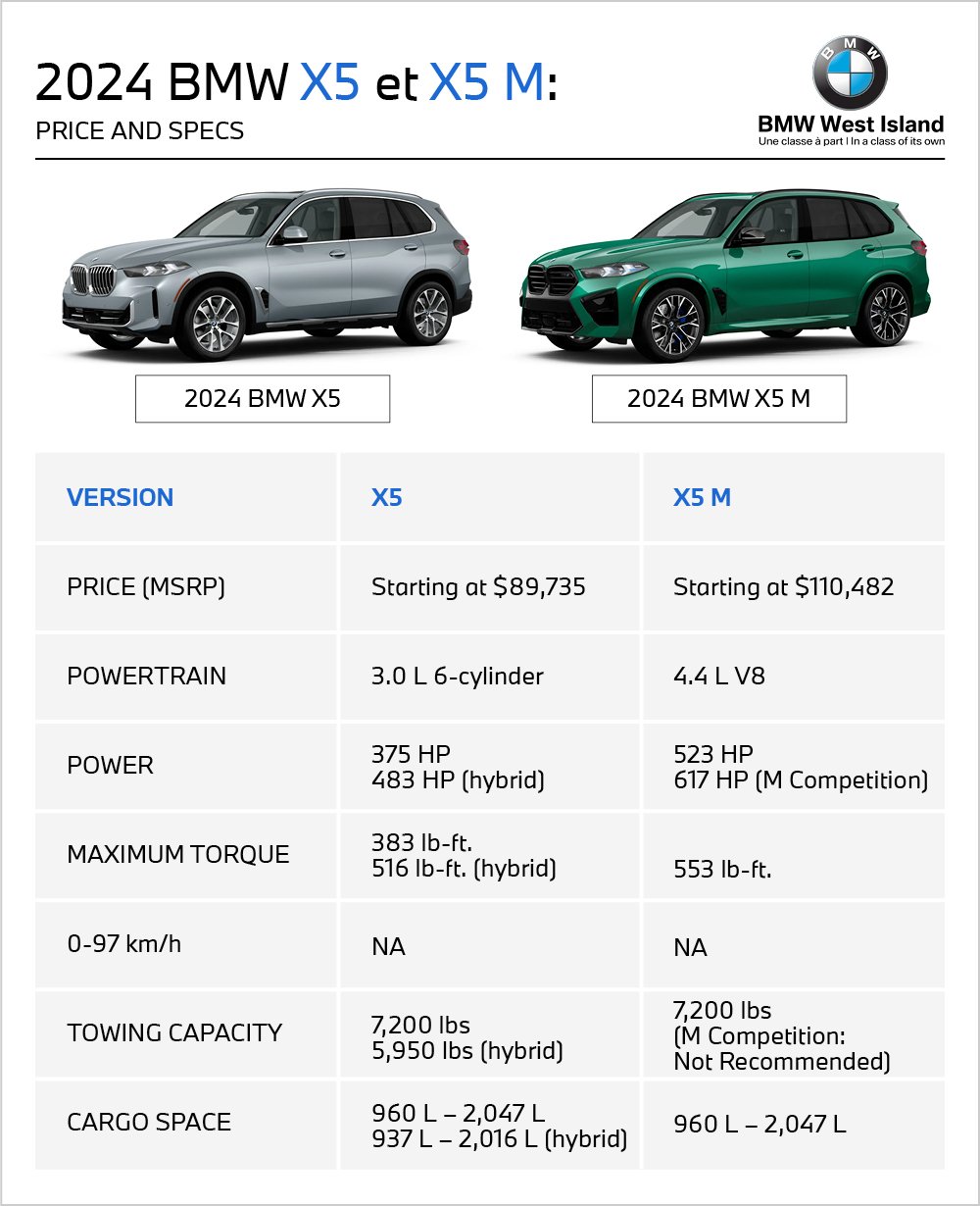 Are you looking for a powerful SUV that will provide you with a sporty look and a refined interior? The BMW X5 is the perfect partner for you. Find out more about the 2023 BMW X5, including specs and prices, with your BMW West Island dealership.
If you want to make a great deal, then you should also take a look at our special offers on BMW vehicles in Montreal!
2023 BMW X5: Technical Specifications
The different available trims
With this BMW SUV for sale in Montreal, each trim is associated to a different powertrain. This way, you will have access to three different versions of the BMW X5, at the following price:
| Trim | Price |
| --- | --- |
| xDrive40i | $ 83,852 |
| xDrive45e | $86,652 |
| M50i | $100,852 |
You will also find an M Competition trim, a truly unique version that offers even more performance.
Powertrain, range and power
What do these trims offer, more precisely? Here is a sneak peek at the 2023 BMW X5 and X5 hybrid specs:
| Trim | Powertrain | Power/Torque |
| --- | --- | --- |
| xDrive40i | 3.0 L 6- cyl. turbo + mild-hybrid | 335 horsepower/332 lb-ft. |
| xDrive45e | 3.0 L 6- cyl. turbo + electric motor | 389 horsepower /443 lb-ft. |
| M50i | 4.4 L turbo V8 | 523 horsepower /553 lb-ft. |
The plug-in hybrid SUV –the xDrive45e- has a 24 kWh battery that provides you with 50 km when in full electric mode. For those of you who are curious, find out exactly how a hybrid vehicle works!
All powertrains on this BMW Canada vehicle are coupled with an 8- speed automatic transmission, along with an all-wheel drive system.
Towing capacity and cargo space
The towing capacity for the BMW X5 is really quite impressive, reaching up to a maximum of 7,200 pounds! The BMW hybrid can also tow impressive loads: up to 5,950 pounds.
Cargo space is also very generous: it reaches between 960 and 2,047 liters! With the hybrid version, cargo space reaches up to 2,016 liters, barely less than its fuel counterpart.
2023 X5: Dimensions
This midsize SUV has the following dimensions:
| BMW X5 |   |
| --- | --- |
| Length | 4,935 mm |
| Width | 2,004 mm |
| Height | 1,753 mm M50i : 1,745 mm |
| Wheelbase | 2,975 mm |
BMW Technologies on board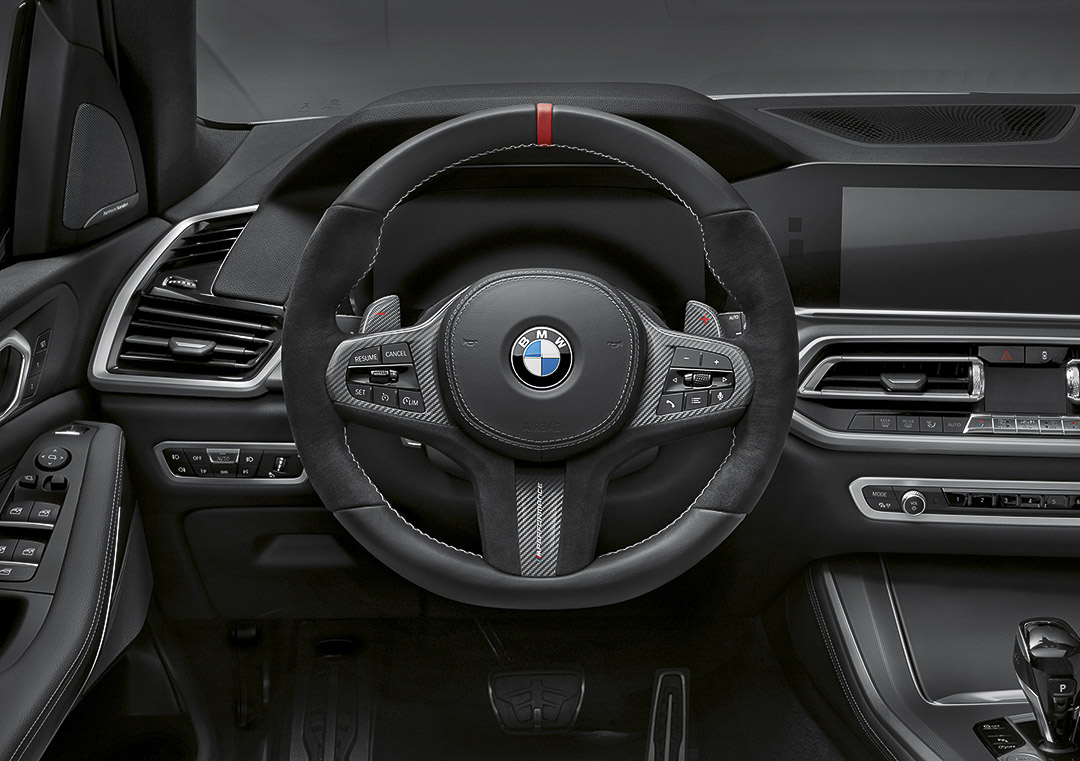 Added Technologies
Aboard the SUV, loads of features will be are accessible from your 12.3- inch touch screen:
Wireless Apple CarPlay and Android Auto
Alexa voice assistance
Bluetooth connectivity
Wireless charging
Moreover, with the Connected Navigation system, you will not only arrive at your destination safely and easily, but you will also get some help finding a parking spot.
Safety Features and Driver Assist Technologies
The 2023 BMW X5 xDrive40i groups together several driver assist features as standard offered equipment, including:
Front collision warning
Pedestrian alert with safety alert sound
A driving assistant
Intelligent emergency call function
And much more.
As an option, you can also choose to add an assistant that will help you –amongst other things- when you are driving in a traffic jam. Peace of mind assured!
2023 BMW X5: Interior and Exterior Design
From the outside, this luxury SUV is a typical BMW, easily recognizable not only from the emblematic fascia, but also thanks to the sculpted and sporty silhouette. This dynamic design is present everywhere, even in the wheel design. With the 2023 BMW X5 xDrive40i, standard offered wheels are 20- inches; you can also choose to equip your vehicle with optional 22- inch wheels.
Moreover, you will have access to a vast array of body colors… up to 24! The interior will also spoil you with several options including Black or Silverstone leather upholstery, but also merino leather in White Ivory, Coffee or Tartufo Brown, amongst other options. You will also have aluminum, genuine wood or carbon fiber trim options. In short, it is both incredibly refined and customizable!
The overall interior is very luxurious and spacious for all passengers. As an added option, you can opt for a panoramic sunroof, amongst other things.
BMW X5: Prices
As mentioned previously, prices for the 2023 BMW X5 vary according to trim. Base prices range between $ 83,852 and $ 100,852. However, you can also customize your vehicle with the different package options as well.
Do not hesitate to get more information about BMW financing, which will allow you to leave at the wheel of your dream vehicle by adapting your payments to match your budget!
Conclusion
It is not surprising that sales for the BMW X5 are higher than ever before in Quebec and Canada! The vehicle is racy, sporty and loaded with amazing options.
Build your own with BMW West Island, your dealership in Montreal, minutes away from Laval, or take a look at our compact SUVs.
2023 BMW X5: at a glance
Here are the specs for the 2023 BMW X5 specs, at a glance:
| Features | xDrive40i | xDrive45e | M50i |
| --- | --- | --- | --- |
| Price | $ 83,852 | $ 86,652 | $ 100,852 |
| Powertrain | 3.0 L 6- cyl. turbo + mild-hybrid | 3.0 L 6- cyl. turbo + electric motor | 4.4 L turbo V8 |
| Power/Torque | 335 horsepower/ 332 lb-ft. | 389 horsepower / 443 lb-ft. | 523 horsepower / 553 lb-ft. |
| Towing Capacity | 7,200 lbs | 5,950 lbs | 7,200 lbs |
| Cargo Space | 960 to 2,047 L | 937 to 2,016 L | 960 to 2,047 L |
---
2021 BMW X5
For those drivers who crave luxury and performance and are looking for it in an SUV, then the all-new 2021 BMW X5 SUV - a luxury crossover - may just have all the features, looks, style and driving capabilities that you are craving for. The 2021 BMW X5 price starts at $74,898 for the gas powered model that features BMW's newest take on its kidney shaped front grille, that will definitely turn heads as you cruise the streets in the neighbourhoods of West Island, Laval and Montreal.
With this year's model, BMW has given a nod to BMWs from the past that have given this brand its loyal following, by increasing the size of the grille to fully encompass the front end of this SUV - a truly head turning, bold feature. Of course, the newly enlarged BMW kidney grille is not the only standout feature on this model. The 2021 BMW X5 specs on this model also include BMW's X laser lights with blue elements surrounding the headlamps, as well as the large air inlets tucked behind the front wheel well giving all models a distinctive look. With the 2021 BMW X5 price starting at $74,900 - you get a highly driveable SUV, in a European-styled package.
The BMW X5 is in its fourth generation, and throughout the years BMW has continually made improvements to this model and its trims, based on other competitive models, consumer preference, and research and development in its European labs. Inside your X5 2021, you'll be properly pampered with the panorama Sky Lounge sunroof and enjoy interior glass accents that reflect the ambient lighting package. If you are stressed after a long day commuting through Montreal as you drive home to Laval and the West Island, the 2021 BMW X5 specs include the Ambient Air package that diffuses the interior air with your choice of four different natural fragrances - while you are surrounded with perfect sound from the Bowers & Wilkins Diamond Surround System. And, you will never have to worry about speed or power, as the 2021 BMW X5 comes with the TwinPower Turbo inline six-cylinder gas engine giving you 335 horsepower and 331 lb-ft of torque.
Inside, the 2021 BMW X5 is brimming with connectivity, safety features and infotainment options. This BMW SUV includes the Driving Assistant package that gives you additional comfort and safety if you commute through traffic on a regular basis, and helps with hazardous steering situations, quick braking moments and parking in narrow locations - great for city professionals. Of course, you can easily stay in touch with work and family while you are on the road with connectivity packages such as Apple CarPlay and Android Auto, as well as available concierge service, connected navigation and more.
BMW X5 xDrive40i
BMW takes it up a notch on engine performance with the BMW X5 xDrive40i model trim level, that even at low revs gives drivers an immediate boost of power through the turbocharged engine, which has indirect intercooling that unleashes a significant 332 lb-ft of torque. And as you move through your gear changes, the optional eight-speed automatic transmission on the Sport trim level will add to a heightened driving experience. You'll be at ease in any driving condition, with the traction provided by the all-wheel drive system that gives you excellent driveability in all weather conditions.
As you drive, you will be able to easily visualize road and car performance on BMW's large onscreen operating system that features touchscreen capability, gesture recognition and iDrive control while seated in luxurious leather heated front seats. In this BMW SUV model, you can also choose from a five passenger or seven passenger seating set up, so if you find yourself driving clients back and forth to the airport or are part of a commuter group, then the larger configuration may be best for you.
2021 BMW X5 PHEV (xDrive45e)
Now, if you have had thoughts of buying or leasing an electric hybrid SUV or crossover, the 2021 BMW X5 PHEV with a price of $89,900 could be a great choice. The BMW X5 specs on its electric hybrid version include engine performance of 394 horsepower, and a speedy 0-100 km/h acceleration rate of 5.6 s - outstanding for a hybrid. Then, to truly personalize your X5, you can add the various packages including the Advanced Driving Assistant Package for $2,000, the M Sport Package at $2,500, the Premium Enhanced Package for $9,000 or go fully loaded with the Premium Excellent Package for $17,000.
2021 BMW X5 M
The top of the line BMW SUV in the X5 model line is the M series. This SUV features the M TwinPower Turbo 8-cylinder engine that delivers an amazing output of 617 horsepower and 553 ft-lb of torque. Designed with a racetrack in mind, the 2021 BMW X5 M includes the drivetrain and chassis as well as the Active M differential - and draws from BMW's motorsport engines. Inside the M Series, you will be surrounded by luxury touches such as the M multi-functional seats in full merino leather upholstery, the specially engineered M gear selector, and you will cast your eyes on the M specific user interface, instrument cluster and control display - as your drive becomes a daily experience that you crave.
Now, if a BMW SUV has caught your eye, but you are looking for a larger and more powerful model, then you may want to head into our dealership and discover the new 2021 BMW X6 - that also features new design elements for the coming year. The team at BMW West-Island, located on the Transcanadienne Sud in Dorval, and close to the communities of Laval, the West Island and Montreal, have the details on all BMW SUV models, and we also have a great selection of used BMW X5 vehicles in stock - if you are looking for a used vehicle. We are happy to sit down with you, determine what kind of SUV you are looking for, and make sure you are 100 per cent satisfied with your choice.
| Model/Trim | Starting Price | Engine | Popular features |
| --- | --- | --- | --- |
| 2021 BMW X5 xDrive40i | $74,900 | 335-hp, six-cylinder engine | Remote engine start, panorama sunroof, power seats with driver memory |
| 2021 BMW X5 PHEV (xDrive45e) | $89,900 | 394-hp electric hybrid engine | Fuel efficiency and lower C02 emissions, larger battery than previous years, 30 miles on electric charge |
| 2021 BMW X5 M | $124,500 | 617-hp, 8-cylinder engine | Panoramic sunroof, head-up display, 12.3" touchscreen display |
---
BMW X5 2020
The 2020 BMW X5 is no ordinary SUV. This vehicle stands ahead of all others as a luxury SUV, and it dazzles with its sporty, road hugging exterior and performance, while offering luxurious comfort and connectivity for both driver and passengers. If you are looking to upgrade your driving experience on the roads and highways around West-Island, Montreal and Laval, then this new 2020 BMW SUV available at BMW West-Island, your local BMW dealer, may be the perfect choice, melding both luxury and driveability into one perfect package.
The 2020 BMW X5 specifications include excellent engine performance and competitive gas mileage compared to other SUVs in its class. But where the experience differentiates from other SUVs, is the level of customization you can choose. With the 2020 X5 price starting at just $73,500, you can then add the level of trim package of your choice to make your BMW experience completely personal and custom.
The 2020 BMW X5 xDrive40i comes in both 5-seat and 7-seat options, with a 340 horsepower V6 engine, or you can choose the BMW X5 xDrive50i or BMW X5 M50i, which gives the added power of a twin turbocharged V8 engine with 456 horsepower.
The various trim packages available are as follows:
The Advanced Driving Assistant package for $2,000 gives the driver steering and lane control, evasion assist, BMW's Driving Assistant Professional, cross traffic alert, lane keep and traffic jam assistant and active cruise control.
The xOffroad Package ($2,950) adds BMW's M Sport differential abilities for changing road conditions.
Add the M Sport Package for $3,000 and you'll get the M Sport Brake, Sport Exhaust, and aerodynamics capabilities, black high gloss roof rails, your choice of wheels and special exterior touches.
Choose the Premium Essential Package at $5,250 with heated front and rear seats, heated and cooled cup holders, a head up display, lumbar support, universal remote control, soft close doors, comfort access, four-zone climate control and manual side sunshades.
The Premium Enhanced Package ($9,000) enhances your vehicle with BMW laserlight headlights, adaptive two-axle air suspension, adaptive M suspension, extended smartphone connectivity and wireless charging and much more.
Or choose the ultimate in luxury with the Premium Excellence Package at $17,000, which gives you Merino leather seating options, massaging front seats, remote engine start, sky lounge panoramic front view and Walknappa leather dashboard.
| Advanced Driving Assistant Package | xOffroad Package | M Sport Package | Premium Essential Package | Premium Enhanced Package | Premium Excellence Package |
| --- | --- | --- | --- | --- | --- |
| $2,000 | $2,950 | $3,000 | $5,250 | $9,000 | $17,000 |
Our dealership, BMW West-Island, on Transcanadiènne Sud in Dorval, serves the communities of West-Island, Montreal and Laval. Please call us to make an appointment to come in, and we will be pleased to share our latest BMW offers, financing and leasing opportunities.